For Presspass, no, I am not Linkara. I am aware of him and even had a few conversations with the guy, but I'm BlueOneTrunk, and I've been reading comics my whole life and thinking about them for just as long, well before Linkara appeared on the internet. And for your question about funny comics, I'd say the funniest thing I've ever read in comics would have to be,
the single issue Superman and Batman: Worlds Funnest
which chronicles the comic relief characters Mr. Mxyzptlk and Bat-Mite who are two 5th dimensional imps who pester Superman and Batman respectively. Mr. Mxyzptlk likes to annoy Superman, and Bat-Mite idolizes Batman yet bumbles in his attempts to help him. The comic chronicles the two getting into an argument and using their fifth dimensional powers to first kill Superman and Batman, and then proceed across the multiverse killing more Supermen and Batmen and destroying every universe they come across. It references some of the most famous comics of all time right down to the art and it's fun to see the two main characters interact with the differing versions of the DC Superheroes.
And funniest series would have to be Deadpool Team-Up.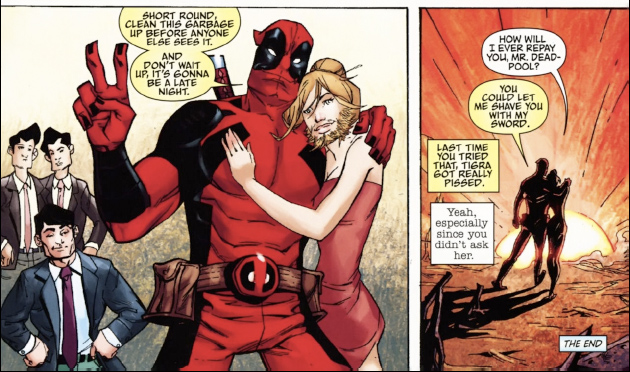 Deadpool, who is quite hilarious on his own when written correctly, is even more hilarious when he's required to team up in every issue with different members of the Marvel Universe. The way his insanity bounces off other characters is almost always worth a laugh or two. It's quite a sight to see him team up with Thor, or become a Herald of Galactus. He's one of Marvel's more versatile characters, you could expect to see him in any situation and not question it at all.
And for teenbrony
Comic books are an interesting format. Unlike most other formats of story telling, comics seem to have no definable end. There are of course exceptions, but for the most part, you can probably expect stories about Batman, Superman, and Spider-Man for the rest of your life. Stories like Harry Potter, have an end. Comics however, no matter when you are born, you tend to find yourself in the middle because of how long running they are. Every comic is someone's first. The way to think about comics, is separate arcs. Self contained stories which, while building upon previous stories, can also stand alone. Comics are designed so that you can pretty much pick up from anywhere and enjoy yourself. The wonderful thing is, Marvel and DC have very well known characters. You really don't need to know more about Batman than he's a vigilante with no powers who uses hard work and skill to be a hero. You don't need to know more about Spider-Man than he has the powers of a human spider. It's nice and simple. Now it may seem intimidating, with their years and years of continuity, but that doesn't matter to you as a reader. Sure, you may not recognize that Batgirl, or know what she is, but it doesn't really matter to what's going on in that story arc. The reason each arc stays fresh, is typically because they have different people working on them at all times. The same person hasn't written Batman since 1939, so it's given chance for more people to come up with new stories for the character to appear. There's a reason some of the best comics ever have only appeared in the last 20 something years. People get to build on the characters and to see what they are, their underlying meanings. It's magnificent. And there's also the fact you can have stories which don't take place in the normal continuity. Like where Clark Kent becomes Batman or a Communist, or a Nazi. It's intriguing stuff.
So basically, the reason comics are so long lasting is the fact that there is an infinite possibility of good and interesting stories which can be told using the well established characters which everyone is at the very least aware of.