Hello everypony! I have a list of announcements to bring you all!
1.
Out of College:
Yes, I have finished my final class today. I will be on more often for the next five weeks! I will want to plan a tournament of some sort within the next few weeks!
2.
New Forum Theme Coming Soon:
I will be updating the forum theme. I am planning somewhere between this black and maybe some red/green colour for the holidays around the corner. I will be derping around with some new forum templates (Maybe some of our old ones); so if you come onto the forum one day and the whole thing is messed up or it's entirely pink, know Nintenbrony Forum's technical service is working at their best!
3.
"Wonderbolt Academy" Leaks:
Yes, the newest episode of MLP, "The Wonderbolt Academy" has been leaked on the Internet; and are for-sure on Youtube. Out of MLP's leaks, this is the biggest one in the fandom's history! Equestria Daily and Facebook keep on reminding everypony about that! Please, do not post any threads about the episode or links to the episode. Some people like to wait for the official release. Remember what happened to Fighting is Magic when somepony leaked it onto the Internet? We don't want another incident like that to happen now!
4.
NEW Forum Portal:
The forum now has its portal enabled. A portal is like a homepage where you can also post things like Youtube videos. It's a little fancier and I'm still learning how to use this thing too. It will look great when I learn how to use it! The tab is between the INDEX and CALENDAR buttons on the homebar.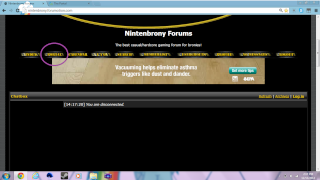 These are a lot of announcements for one post, so this signifies the forum will be active this holiday season!
-Nintenbrony